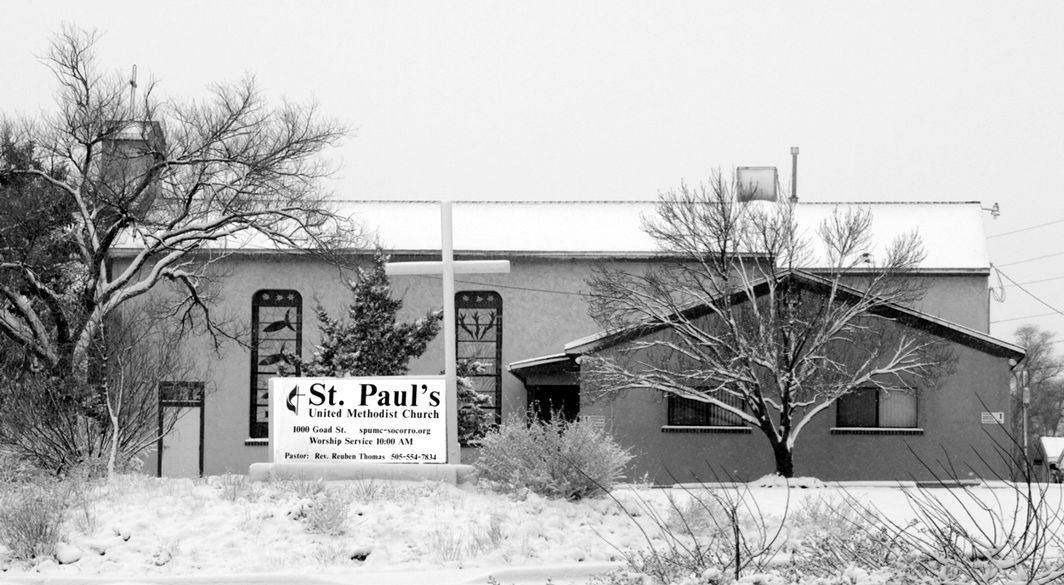 About Us
St. Paul's United Methodist Church located in Socorro, New Mexico is a mission oriented church involved in many mission projects in our community, state and the world beyond.  We are also a loving and open community building on our strengths while also looking for new ideas, people and ways to express our love for our Lord Jesus Christ.
Please feel free to contact us at stpaulsocorro@gmail.com  
In-person Sunday Worship is at 10am on Sundays. However our online version of the worship service (a bit shorter) is temporarily unavailable. We send out a Mailchimp post which includes the Bulletin  for Sunday worship and post the bulletin to our website usually by late Sunday afternoon.  Use the buttons for St Paul's  YouTube, Facebook and Online Giving Site to access the service, bulletin and giving sites.
Currently we have two Bible studies meeting, one  on Wednesday at 6pm and the other at 6pm on Thursdays. If you are interested in joining either group send us a email: stpaulsocorro@gmail.com
The pastor's office hours are Wednesday from 9am to 3pm. Contact Pastor Schwarting via email at: jeschwarting@outlook.com or by phone505-331-8121
Our Prayer Shawl group meets on Tuesday evenings at 5pm in the Fellowship Hall. 
St Paul's has an active Bell Choir which also meets on Tuesday evening at 6pm.
Anyone interested in playing or singing Gospel music is invited to join the Jam Session which meets every Saturday afternoon at 4pm in the Fellowship Hall.
Meet Our Pastor Rev. John Schwarting
Look for Pastor John's bio here soon…