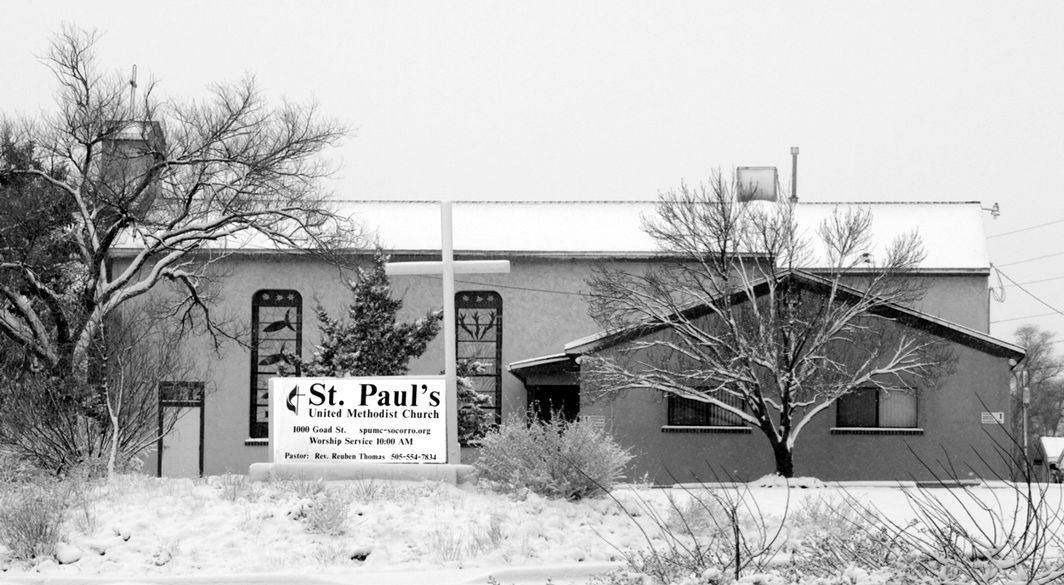 About Us
St. Paul's United Methodist Church located in Socorro, New Mexico is a mission oriented church involved in many mission projects in our community, state and the world beyond.  We are also a loving and open community building on our strengths while also looking for new ideas, people and ways to express our love for our Lord Jesus Christ.
Please feel free to contact us at stpaulsocorro@gmail.com  
In-person Sunday Worship has resumed at 10am on Sundays but our online version of the worship service (a bit shorter) will continue to be available via our YouTube channel  We will send out a Mailchimp post which includes the Bulletin  for Sunday worship and post the bulletin to our website usually by late Sunday afternoon.  Use the buttons for St Paul's  YouTube, Facebook and Online Giving Site to access the service, bulletin and giving sites.
Currently we have two Bible studies meeting, one  on Tuesday at 6pm and the other at 6pm on Thursdays. If you are interested in joining either group send us a email: stpaulsocorro@gmail.com
The pastor's office hours are Thursday from 10am to 3pm. Contact her  at 575-332-0528 or via email: pastor@spumc-socorro.org
Our Prayer Shawl group has resumed and they meet on Tuesday evenings at 5pm in the Fellowship Hall. 
Jam session has also resumed.  Anyone interested in playing or singing Gospel music is invited to join this Saturday afternoon gathering which meets in the Fellowship Hall.
Meet Our Pastor Cazandra Campos-MacDonald
Cazandra is thrilled to join the community of St. Paul's UMC, Socorro. Cazandra grew up in the Greater Houston area and earned a Bachelor of Music Education degree from Houston Baptist University. She is married to the Rev. Dr. Joe MacDonald, pastor of FUMC Belen, and they have two sons, Julian (24) and Caeleb (14). Cazandra taught middle school band in Texas for 13 years and left the profession to embark on a second career as a patient advocate for a specialty infusion company. Her sons both have a rare, genetic bleeding disorder, which thrust her into a new world of raising two sons with a rare disorder. In 2006, her family moved to Deming, New Mexico to answer Joe's call to full-time ministry.
Cazandra served alongside her husband as the pastor's wife and participated and developed ministries in the church. She answered her call to ministry by attending the  Iliff School of Theology in 2017 and is on track to complete her Master of Divinity in March of 2021. She is also on the path to ordination as a Certified Candidate in the United Methodist Church.
Cazandra is a a well known speaker in the bleeding disorder community. She has been a contributor to The Mighty, Scary Mommy, Global Genes, and The Hemophilia Federation of America's Infusing Love blog. She is a columnist for Hemophilia News Today, wrote a monthly column on faith for the Truth or Consequences, Sentinel, and is also a regular writer for LA Kelley Communications. Cazandra also produces a monthly podcast, The Fishbowl: The Podcast for Leaders in Ministry and the World.
Her first book, Dear Hemophilia: Finding Hope Through Chronic Illness is available on Amazon.
You may follow her writings and podcast at www.cazandracmacdonald.com.