Welcome to
St Paul's United Methodist Church
Socorro, New Mexico
Current Activities
 Mid-week Pastor's Newsletter and Devotions
Thursday Morning Bible Study 10AM
Thursday Evening Women's Bible Study 6PM
Sunday Worship via St Paul's YouTube page
 Communion 1st Sunday of the month
St Paul's will remains closed for in-person worship until COVID-19 restrictions are eased.  However we are working on a possible parking lot version of worship. 
Please check this page often to see what progress has been made toward that possibility. 
Please remain at home and stay safe.  God loves you and so do we.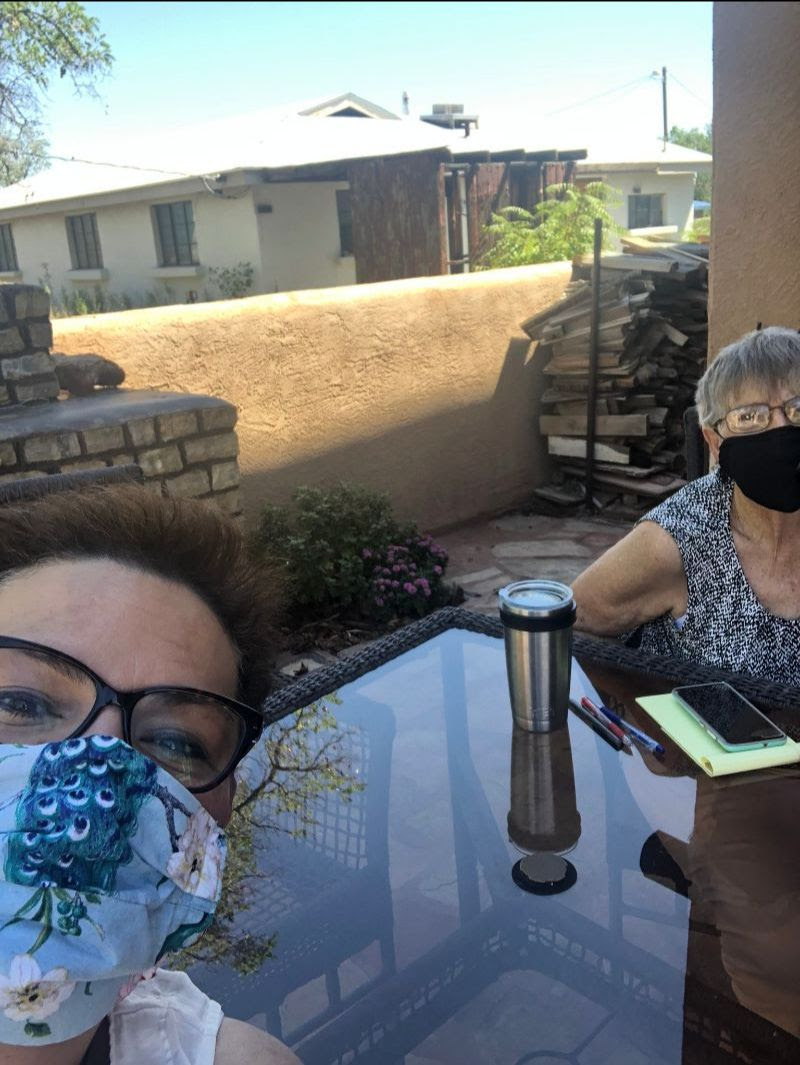 Brothers and Sisters in Christ,
     Every week I get to this point and can't believe that our COVID world is not in a better place. It is a matter of taking things one day at a time. Planning anything is difficult. From vacation plans for next summer to the holiday season to come, planning is not easy. Everything hinges on COVID. Please know that our church leadership is closely monitoring the status of our world and as soon as we feel that we can begin to discuss the options to open the church, we will let you know. It's all about safety first and foremost.
     Last week I began my Front Porch Visits! Betty Houston and Steve and Ruby Hunyady were my first visits. I truly enjoyed meeting these wonderful people. Take a look at our socially distant selfies below 🙂 If you would like me to come visit, please sign up at the blue box below. You may also reach me via email at pastor@spumc-socorro.org, or call me at 575-322-0528. 
     No matter where you are in the world, let us remember something…please be kind. Everyone is under a great amount of stress during this pandemic. It costs nothing to be kind to one another. Let's always remember to choose our words carefully, give others the benefit of the doubt, and treat others with compassion. That is what Christ calls us to do. It's how we are his hands and feet.
     May your week be filled with love and joy.
Grace, peace and elbows,
Pastor Cazandra
It's July and we have lots of new things to share now that Pastor Cazandra has arrived at St. Paul's.
We have:
A   St Paul's YouTube Channel where Pastor Cazandra will post her sermons, devotions and other helpful resources. Use the button above to go directly to our YouTube page each week.
 A new Facebook page St Paul's UMC.  Make sure you follow this link and like the page so you'll get all of Pastor Cazandra's updates
 A new church phone number (575) 322-0528. Use this number to reach pastor Cazandra.
A midweek mailchimp newsletter from Pastor Cazandra that will include a devotion series called "Devotions in the Desert"
A worship guide for Sunday service at home which will be posted on Saturday evenings
A Sunday worship experience with a Sermon and in a couple of weeks Communion.
Weekly Reminders
Pastor's Office Hours – Thursday  10am – 3pm (check the church calendar as the day may occasionally change)
Mid-week Pastor's Newsletter (MailChimp)
Thursday Morning Bible Study 10am (Zoom)
4-6pm Drop by church to pick-up Communion elements
Women's Bible Study 6pm (Zoom)
Sunday's Worship Bulletin will be sent in a MailChimp posting after the worship Service is posted to YouTube on Saturday evening.
Sunday Worship via YouTube (posted Saturday evening)
A Simple Guide for Worshiping at Home
St. Paul's UMC Socorro – Pastor Cazandra Campos-MacDonald
July 26, 2020
Preparation: Find a spot in your home for yourself/your family to engage in worship. Include your Bible, a candle and a lighter or matches (or battery-operated candle or low wattage table lamp), if possible. You might consider a small cross if you have one available.
Candle Lighting: Light or turn on the candle/lamp to acknowledge the presence of the Holy Spirit in your worship.
Opening Prayer: Take a deep breath and give thanks for the gift of God's Holy Spirit.
Song of Celebration: In Christ Alone, https://www.youtube.com/watch?v=f1QjKqyGh8s
Scripture: Read a passage from the Bible. The text for the St. Paul's community for July 26, 2020, is           Matthew 13:31-33, 44-52
Affirmation of Faith: Recite the Apostle's Creed together (UMH #881).
I believe in God, the Father Almighty,
Maker of heaven and earth.
And in Jesus Christ, his only Son, our Lord,
Who was conceived by the Holy Spirit,
Born of the virgin Mary,
Suffered under Pontius Pilate,
Was crucified, died, and was buried*;
The third day he rose from the dead;
He ascended into heaven,
And sitteth at the right hand of the Father Almighty.
From thence he shall come again to judge the quick and the dead.
I believe in the Holy Spirit,
The holy catholic** Church,
The communion of saints,
The forgiveness of sins,
The resurrection of the body,
And the life everlasting. Amen.
*Traditional use of this creed includes these words: "He descended into hell."
**universal
Sermon: Listen to, watch or read a sermon.  Pastor Cazandra's sermon, "The Power of Yeast," will be posted on YouTube Saturday evening. You will also find it available on the church Facebook page and website.
Songs of Praise:
Come Ye Thankful People Come, UMH #694   https://www.youtube.com/watch?v=Kf7Z8ukqiok
Holy God We Praise Thy Name UMH  #79  https://www.youtube.com/watch?v=TVBQYnfkiBM
Giving: Give thanks for God's faithfulness and provision. Contribute to the mission of
your local church by writing a check or giving online. Contributions to St. Paul's may be made by mailing a check to 1000 Goad St., Socorro, NM 87801 or giving online via the website www.spumc-socorro.org.
Song of Centering:
Change My Heart O, God  https://www.youtube.com/watch?v=CEtsHWFE6-w
Prayers of the People for the Church:
From the UM Book of Worship, #501
O gracious God, we pray for your holy Church universal,
  that you would be pleased to fill it with all truth, in all peace.
Where it is corrupt, purify it;
where it is in error, direct it;
where in any thing it is amiss, reform it;
where it is right, establish it;
where it is in want, provide for it'
where it is divided, reunite it;
for the sake of him who died and rose again,
  and ever lives to make intercession for us,
  Jesus Christ, your Son, our Lord. Amen.
Blessing: Say this verse aloud: "May the God of hope fill you with all joy and peace in
believing that you may abound in hope by the power of the Holy Spirit. Amen. (Romans
15:13)
Be at Peace: Reach out to someone you have not spoken to in a while. Send a card, drop off some flowers or a special offering from your kitchen. Let them know they are loved.
heck out St Paul's new Facebook page!  St Paul's UMC.  It gooes with the Facebook Group site we have had for sometime.  Everyone on the group page has already been connected to the new Page.  You can join us by liking or following the page.
Online Church Services & Giving
We will continue to update this list of church services available for you to attend online.  We'd appreciate suggestions from you for the list as well. Please send them to Online Services.  Here are a few entries to try:
Find a Methodist Church You can look up any UMC and check to see if they have an online service.
Check Google, Bing etc. for additional online services.
Help us help our community by giving online
We have activated our online giving system and we hope that you will use the button below to access the Online Giving page.  Because we are obligated to provide a record of your donations you will need to register for this online service and set the parameters for your account.  We are hoping that you will take advantage of this service especially while we are practicing "social distancing".  You can choose from credit and debit cards, ACH direct withdrawal and text messaging.  All of these services require a small fee.  Please help us get as much of your donation to St Paul's as possible by using the ACH method if you can (it has the lowest fees) and/or agreeing to pay the extra fee involved.  This will mean so very much to our mission programs.  If you need help please contact us at: Online Giving Help
Online Giving